"Sam is friendly and direct, and passionate about the flexibility smart styling can bring. She excels at helping her clients mix high and low, and creating functional, lifestyle-friendly wardrobes."
– Stacy London, TLC's What Not To Wear and TLC's Love Lust or Run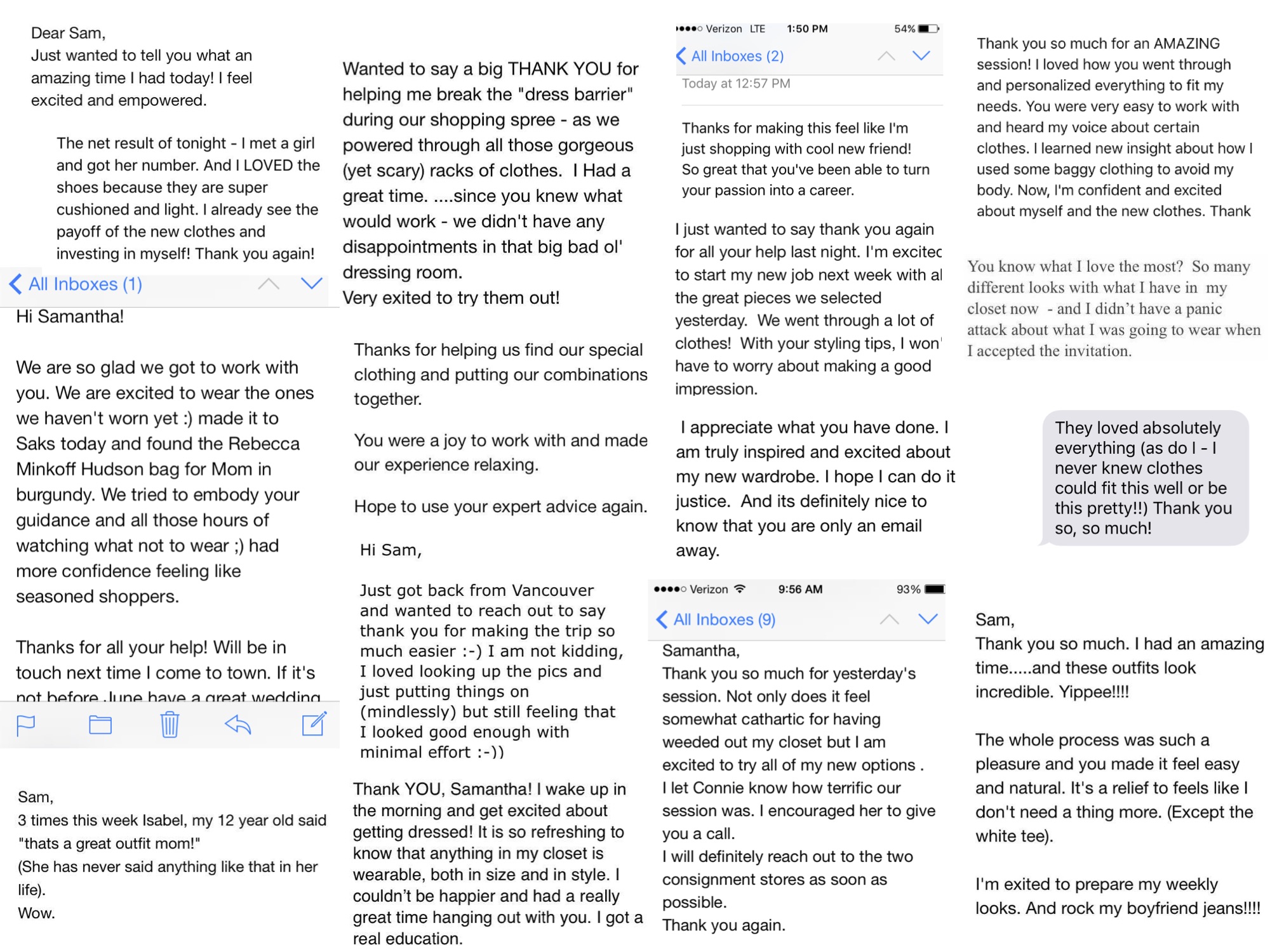 "It is an absolute pleasure to work with Samantha Brown, one of the most talented young stylists I've seen. Samantha has pulled fresh new looks for me on many occasions, from selecting the perfect outfit for me for a photo shoot to sending me "must-haves" for a girls' beach vacation. Ive also had the pleasure of partnering with Samantha on a "6 Weeks to Sleek and Chic" project where she helped my weight loss clients find the right clothing to flatter their new figures. Do not be intimidated…Samantha will work within any budget and will help you look and feel your best!"- Tara Roscioli, Highway 2 Well
"Sam, you are an absolute angel!  I had the best time!  Thanks again for being so patient with me. I am so excited and feel so good about everything – how great is that?  I really can't wait to do it again." – Cammie M., Senior Manager PWC
"Since I've been working with Sam my friends and colleagues have commented on the marked improvement in my wardrobe. They told me they've noticed improvement in both the fit of my clothing, as well as the quality and coordination.  Sam can work any price point, and she not only values quality, but also value. Her superb taste is accompanied by her great customer service." – Dr. Randall J., M.D.
"Sam is my go-to stylist for all my photo shoot productions. She knows how to pull together the most perfect options, for every size budget, all while adhering to the needs of the shoot mandate. I also love the fact that she applies her own creative spin to the process. Sam is composed under pressure and interacts with clients and talent politely and professionally. Whether she's styling men, women, or children, Sam knows what works. Her excellent reputation in the fashion industry speaks for itself. I'm truly proud to have her on my crew!" – Lynn DelMastro, Executive Producer, Joe McNally Photography
"I had a great experience and a lot of fun spending time with Samantha shopping my own closet.  I have numerous items in my wardrobe that I just would stare at. She helped me weed out the few that needed to be edited out and then she helped me style new outfits from the many pieces I had left.  She also made great suggestions for what I could buy if I wanted and where would be the best place to shop.  She took pictures of the outfits she put together and then emailed me a great follow-up for reference.   It was so rejuvenating to have someone like Samantha help bring my wardrobe and my own creativity with fashion  back to life.   She's got a wonderful personality and a great sense of style.  I have found a new friend and a fashion "help-line" I can call when I'm in need." – Laureen P.
"Before meeting Samantha, I had always dreaded shopping for clothes and viewed fashion with nonchalance. Shopping with Sam is always an incredible and energizing experience, a treat. She has introduced me to different brands and styles I would have never considered before, and she offers tailored, practical, expert yet accessible insights along the way. I now care passionately about how I look and dress, and am confident in my style. Sam is so gracious and a tremendous resource. My ideal day – which would have always had to include a grueling workout, an extravagant meal at a nice restaurant, and watching sports – now has to include a shopping session with Samantha as well!"- Arthur L., Head of Business Finance & Administration/CFO Altamarea Group
"Dear Sam, Thank you very much for speaking at our event yesterday. We loved your presentation and everyone came away from it with great practical advice. We were especially happy that you were able to recommend some stores within a law student's budget! We will definitely hear your voice in our heads when shopping for our upcoming interviews and summer internships." – Fordham Law Women
"I first met Samantha while we were both working with Stacy London's Style for Hire. Samantha was one of our top stylists because of her hard work and dedication. She was always filled with bright ideas and willing to participate in interviews and events which helped to make my job on the PR side so much smoother and fun. Samantha is amazing to work with! She has a great eye for style, the details and really understands the importance of fashion and our personal brand image. Most importantly, she gets to know the subject personally and relates back to what will work best for them. She understands high/low and will work within any budget. I am excited that our professional relationship continues to grow and highly recommend Samantha without hesitation." -Stephanie Scott, CEO, First and Last PR
"Thanks again for your help — I absolutely love everything that we got on Saturday. It was such a great experience — I don't know if I can go back to regular shopping after how easy it all was!" – Danya A.
"You took on our makeover with a whole heart and it showed throughout the day. Both women left feeling so uplifted and  beautiful, and you were a large part of the reason why."-Tammy K., UJA Federation
"Sam brown gives you a professional, personal, private experience that is fun and unforgettable. Her personal shopping experience is tailored exactly to you and your needs. No more endless hours on the internet or the painful store to store to store looking for a specific item. Sam does all the shopping and brings it to you to try on in your own home-what you don't like or want she will take care of returning. Sam will look through your wardrobe and give you expert advice on how to maximize what you already have. She will be honest about what looks good on you as far as style, color, cut and she will look through your lens as far as taste for different styles and looks. She will introduce you to beautiful things you have never seen as we'll as finding just the right top to put under your Chanel suit not to mention finding you shoes that will cause you to wonder 'how did I ever live without these?' Literally, from head to toe Sam Brown will transform you. When I have my personal shopping sessions with Sam, I feel like Cinderella with her fairy godmother- transformed." – Zina K.
"Sam was tremendous to work with. She listened to what I needed and wanted, and was mindful of my budget and lifestyle. She was professional, friendly, and very courteous. Her encouragement and expertise led to a very successful appointment. I am very pleased with the results!" -Ginger W.
"I had an absolutely fantastic time playing "dress up" with Samantha. She has such a great sense of style, and instantly knows how to work with what you have, even if what you have is far from perfect. I can't believe all the different ideas I now have for my wardrobe. I can't wait to go shopping with her! I was somewhat nervous about hiring a "stylist" because I thought someone would try to impose their ideas on me or not quite get what I wanted. Samantha was terrific, had a good sense of what I wanted, listened, and above all, we had a lot of fun." -Julie S., Senior Writer "Institutional Investor Magazine"
"I can't say enough positive things about Samantha Brown. She took the biggest wardrobe challenges in my closet and found ways to make them work. When an outfit wasn't quite right she quickly found alternatives that made them fabulous. I would happily work with her again."-Nancy H., Leadership Development Adviser and Executive Coach
"Sam is very talented and fun to work with. She helped me wade through piles of clothes to find the things that best suited my lifestyle and body type, and then put together fun, creative outfits for a variety of occasions. I would highly recommend her!"- Kristen S.