Samantha Brown X StevieWren
Personal style is defined by the way an individual mixes and matches their clothing and accessories to create a look that is all their own. Layering isn't so much about piling on the jewelry (think: Coco Chanel and her famous quote about taking one thing off before you walk out the door…) but rather, using strategic pieces to draw the eye to a certain area. Jewelry is one of the fastest ways to add visual interest to an outfit, so layering our necklaces, bracelets, rings and even earrings will help us define a personal style that stands out from the crowd.
Lesson #1:
When layering necklaces, consider proportion. Delicate chains always look fantastic when mixed together, but if you're choosing a chunkier pendant, layer it with a more delicate one.
Lesson # 2:
In a 90's trend resurgence, multiple ear piercings have made a huge comeback. Opt for an ear cuff for one-and-done, or mix and match to layer up the earlobe.
Lesson # 3:
When it comes to rings and bling, the more the merrier. Stack 'em high with your favorite colored stones. Keep the stack to one metal tone, or mix it up for a more eclectic look.
Get the look: Stack Rings
Lesson # 4:
A single bracelet looks great alongside a fabulous watch, but when in doubt, add a few more. Beaded stacks lend a more casual vibe while bangles help to elevate a look.
Get the look: Best Bracelets
The world of styling isn't always glamorous, but when I have the pleasure of discovering a new designer and am welcomed into their showroom for a sneak peak of the most amazing jewels, it's hard to find a reason why I don't have the best job. Ever. Once a jewelry gal, always a jewelry gal.
Keeping my new secret under wraps didn't seem fair, which is why I'd love to introduce you all to Stevie Wren Jewelry. A design duo hailing from Chi-town, Stevie and Karen create unique, delicate, wearable pieces that have captured my heart and attention. To know them is to love them, so here's a short Q&A with the designers, and head over to their website to scoop up your favorite pieces. Can't choose a favorite? I'm always here to help. And don't forget to enter SWSTYLE for a 20% price reduction exclusively for my clients.
Who is the Stevie Wren Woman? 
The Stevie Wren woman is confident and style-savvy. She's a woman who appreciates innovative design with quality materials, and looks for items that can be worn day to night, work to play, and can be mixed with their existing accessories. She is sophisticated, creative, and likes to think outside of the box.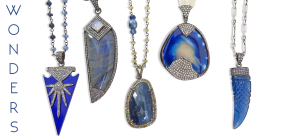 As a stylist, I love to hear where you draw your inspiration from. Your collections mix seamlessly, yet offer something for everyone. 
Created by a mother-daughter duo, our inspiration for Stevie Wren pulls from many different spheres. While Stevie draws inspiration from the streets of the NYC, Karen pulls influence from her international travels. We love exploring cultures and their different design aesthetics.